USAID to Sponsor the AlphaExpo Mini-Accelerator and Startup Pitch Competition at the 10th Africa Fintech Summit in Lusaka, Zambia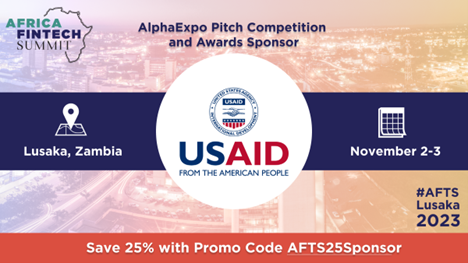 LUSAKA, Zambia, 25 October 2023 /African Media Agency (AMA)/-The Africa Fintech Summit is pleased to announce that the U.S. Agency for International Development (USAID), as the Sponsor for the 6th Alpha Expo Mini Accelerator & Pitch Competition taking place as part of the 10th Africa Fintech Summits to be held at the Marriott Ciela Resort in Lusaka, Zambia on the 2-3 of November 2023. The sponsorship comes at the hill of the launch of the 'Tech for Trade Alliance' initiative.by the US Government's Prosper Africa at the 9th Africa Fintech Summit in Washington DC last April aimed to accelerate e-commerce and digital trade in Africa and address legal, regulatory, and logistical bottlenecks across the continent.
After hundreds of applications from all over around the continent and rigorous selection process, 12 early-stage startups with the most impactful digital innovations are selected to pitch in front of independent panel of judges on the 03rd of November 2023 at the Africa Fintech Summit. The startups selected to showcase their innovation at the summit are:- Bosso, Get Equity, Koloso, Kutoa, Loop, Mytalu, Power, Save & Remit Services, SaveApp, TradeLenda, YNA Kenya and Zambezi Capital. USAID's sponsorship includes Cash awards to the top 3 winners of the Pitch Competition.
Since the first AlphaExpo pitch competition at AFTSLagos in Nigeria in 2018, the program has witnessed the participation of over 50 different startups from across 13 different countries and past participants have collectively raised over $200M from investors like Google and Coinbase, Block, Mastercard, IBM and many more investors.
"It is with an immense gratitude that we are welcoming USAID powering our alpha Expo Mini accelerator Pitch Competition in Zambia as we provide Africa's future problem solvers with visibility, opportunity, and capital access through our flagship AE Mini Accelerator that we are doing for the 6th year now. USAID's investment in the pitch competition is strategically aligned with the recently launched 'Tech for Trade Alliance' initiative as these early stage startup join the rank of alliance members solving Africa's digital, gender and financial divide and provide accelerate financial inclusion," said Zekarias Amsalu, Co-Founder of AFTS and MD of Ibex Frontier.
In addition to USAID's Pitch competition & Startup Award sponsorship, #AFTSLUSAKA2023 will be supported by a diverse cohort of partners including a keynote speech by Honorable Minister Felix C. Mutati of the Ministry of Technology & Science of Zambia as well as sponsors including Mastercard, Flutterwave, Ecobank, Multigate, Chipper Cash, MDP, Fivewest, PAPSS, Cellulant, Premier Credit, FonBnk, Fincra, Smile ID, Klasha, FSD Africa, Termii, OneLiquidity, Yellow Card, MMLP, Waya, Founders Factory Africa and counting.
Tickets for AFTS Lusaka, Zambia are on sale now. To learn more or to register, visit http://africafintechsummit.com/.
Delegates get 25% on AFTS tickets by using the discount code AFTS25Sponsor at checkout of registration at http://africafintechsummit.com/.
Distributed by African Media Agencyin partnership with Africa Fintech Summit
About Africa Fintech Summit
About the Official Africa Tech Roadshow
The Official Africa Tech Roadshow is a pioneering initiative aimed at fostering collaboration, innovation, and growth within the African technology landscape. By bringing together top industry conferences and events, the Roadshow provides a platform for thought leaders, entrepreneurs, and investors to exchange ideas, share insights, and forge partnerships that contribute to the advancement of the Pan-African technology industry.
Media Contact
Charles Isidi
Head of Marketing and Communications
Africa Fintech Summit.
The post USAID to Sponsor the AlphaExpo Mini-Accelerator and Startup Pitch Competition at the 10th Africa Fintech Summit in Lusaka, Zambia appeared first on African Media Agency.