Live Scores feature within Opera Mini browser surpasses 50 million users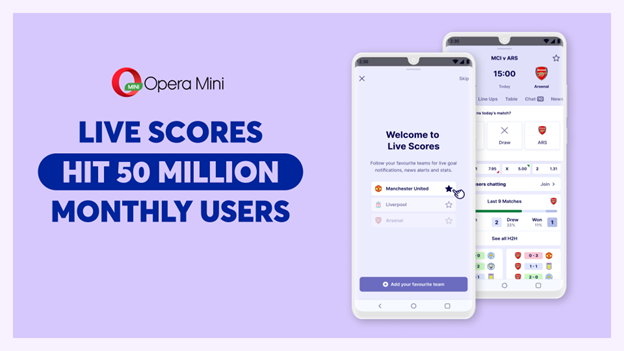 OSLO, Norway, 19 April, 2023 -/African Media Agency(AMA)/- Opera is announcing a major milestone: Opera Mini's Live Scores feature has surpassed 50 million monthly active users worldwide. Live Scores is a football scoreboard embedded directly within the company's acclaimed mobile browser, Opera Mini. The success of Live Scores demonstrates not just Opera's enthusiasm for sports, but its commitment to providing seamless access to what users are passionate about.
Live Scores was initially launched as a part of Opera's celebration of the 2022 World Cup, along with the Shake and Win campaign that had Opera fans in Ghana, Kenya, Nigeria, and South Africa shaking their phones to win $300,000 in prizes. Such was the success of the competition that Opera Mini rocketed to number 1 in the Google Play Store in Kenya and Nigeria as over 200,000 prizes were distributed.
With football making the headlines, the company took the opportunity to roll out Live Scores. Sensitive to the fact that mobile data in especially sub-Saharan Africa is among the most expensive in the world, Opera developed an in-app solution: a native scoreboard that allows users to stay on top of the action without having to jump to another platform. Users – especially those who are rewarded with 50MB of free data every day for making Opera Mini their default mobile browser – can follow the day's football matches and scores from right inside the fastest and most data-friendly mobile browser available.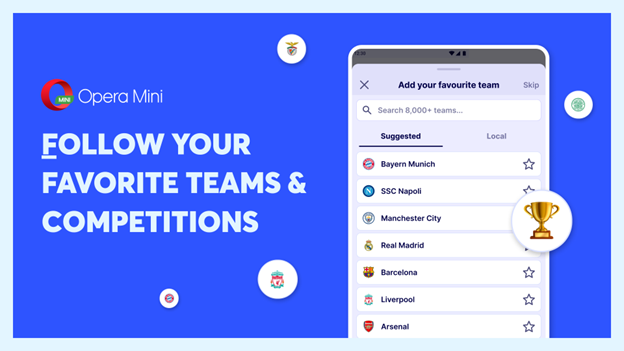 The growth in popularity of Live Scores has since been exponential: launched in November, the feature reached over 50 million monthly users by March. Now, as the world's most popular leagues and competitions near their conclusions, Opera Mini serves as the chief source of footballing information for tens of millions across the globe.
"We're passionate about football here at Opera, and as a global company we are conscious of just how many of our users the world over share that enthusiasm. We realized we could provide a great solution to what is, for many, a pressing problem: how to quickly and efficiently get the football scores and updates that they craved. The success of Live Scores just shows how strong that need has been, and we're delighted to have found such a well-received solution," said Jørgen Arnesen, EVP Mobile at Opera.
With the latest update to Live Scores, users can now customize their football experience by following over 8,000 teams from around the world, including all the big leagues and competitions like the Premier League, La Liga, and the Champions League. A new Match List page allows Opera Mini users to track multiple matches across numerous leagues worldwide, with a summary of kick-off times, information about line-ups, match statistics, running commentary, and of course, live scores.
The Live Scores update finally features Live Match Alerts, in which users can receive notifications for all matches involving their favorite teams. Whether it's a local derby or a continental tournament, notifications roll in for kickoff times, goals, red cards, penalties, and the full-time result.
Live Scores puts football at Opera Mini users' fingertips, allowing them to customize according to favorite teams and competitions, peruse in-depth statistical information, and receive Live Match Alerts. The original Live Scores feature, with its live scoreboard embedded within the browser, is additionally now available for Opera for Android and iOS users.
To reboot the way you stay tuned into football, download Opera Mini for free from the Google Play Store.
Distributed by African Media Agency (AMA) on behalf of Opera.
About Opera
Opera is a global web innovator with an engaged and growing base of hundreds of millions of monthly active users who seek a better internet experience. Building on over 25 years of innovation that started with browser products, Opera is now leveraging its brand and highly engaged user base in order to expand its business into new segments. Today, Opera offers users around the world a range of products and services that include PC and mobile browsers, the newsreader Opera News, and apps dedicated to gaming, e-commerce, and classifieds. Opera is headquartered in Oslo, Norway, and listed on the NASDAQ stock exchange (OPRA).
About Opera Mini
Launched in 2006, Opera Mini is a small, fast, and powerful browser. It comes with unique features such as Data Compression, Offline File Sharing, and a built-in ad-blocker. Today, Opera Mini is used by more than 100 million people who chose it over the pre-installed browsers on Android mobile devices. Opera Mini has a 4.4 star rating on Google Play and has been reviewed by more than eight million people worldwide.
The post Live Scores feature within Opera Mini browser surpasses 50 million users appeared first on African Media Agency.