Inflation in Ghana and Cedi depreciation: causes and impact on money transfers
By Darryl Pietersen, Director of Anglophone Africa, WorldRemit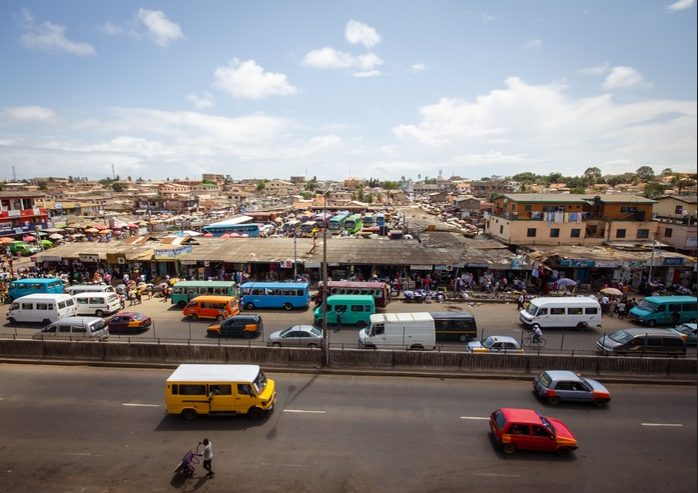 ACCRA, Ghana, 7 February, 2023,-/African Media Agency (AMA)/- Inflation rates in Ghana are at a record high, but what is causing the increase, and how does it affect you? Ghana's inflation rate currently stands at over 40%. Predictions suggest that inflation in Ghana will peak in the first quarter of 2023, following another slump in the Ghana Cedi in November 2022.
Here, we are looking at the causes of inflation in Ghana from August 2022 to today. Read on to see how that inflation impacts the exchange rate for Ghanaian currency, why the Ghana Cedi is depreciating, and what that means for your money transfers to Ghana.
What is causing inflation in Ghana?
Currently, the inflation rate in Ghana continues to rise though analysts predict that it will decelerate in 2023. The inflation rate in Ghana is affected by many elements, and there are different factors involved in how inflation is calculated.
Firstly, the heightened political division in Ghana between the ruling New Patriotic Party and their opposers has resulted in an opposition request for the removal of the current Finance Minister, Ken Ofori-Atta, due to his handling of the current financial situation. Political instabilities, situations, and risks can have a vast impact on inflation rates, as they will affect how much a government will be able to borrow in times of need. Over the course of the last year, Ghana has borrowed money in attempts to stabilise inflation, so there is also the possible risk of further debt, which will influence political conversations.
Further, prices for commodities are a leading indication of inflation risks, and are often used in predicting inflation or deflation, though high global commodity prices can also add to high inflation levels.
Prices of crude oil surged globally after Russia's invasion of Ukraine in early 2022, but oil is one of Ghana's highest sources of export revenue, and oil prices in Ghana are driving inflation, causing rising energy costs. Ghana's current inflation rates are partly a result of global oil price increases causing domestic increases at gas stations, as well as generally in transportation costs, with a knock on to other factors such as food supply chains.
Though food is generally excluded from 'core' inflation measures, the rising prices for food was the initial cause of the inflation rate in Ghana, created by panic-buying as the country entered lockdowns due to Covid-19 in 2020. Despite making some recovery, inflation in Ghana soared again in mid-2021, after the food supply chain ran into issues of oil pricing, a bird flu outbreak in one of Ghana's food-producing regions, and climate change causing delayed rainfall. The increase in food costs affected Ghana's inflation rates as specific ingredients became harder to source, and therefore more costly.
Today, Ghana's currency, the Cedi, is depreciating against the US dollar, and is now one of the worst performing global currencies. This is one of the main factors of the inflation rate in Ghana. A weakened currency means that hikes in import costs must be passed on to individuals within the country, adding pressure to already-higher costs of food and transportation.
How this affects Ghana Cedi's inflation rate
Inflation and currency exchange rates are very closely related, and changes in one have an impact on the other. In the last year, the Ghana Cedi has lost more than half of its value against the US dollar. As imported commodities are priced in US dollars, when inflation rises, the same amount of Ghana Cedi buys less than it did before, causing currency depreciation in Ghana of the Cedi against USD. Exchange rates are often determined by a perceived desirability of a particular currency, so a decrease in that currency's purchasing power leads to a decrease in desirability, further lowering the exchange rate.
Sending money to Ghana with WorldRemit
WorldRemit wants to make sure you get the most for your money, even through tough times. Though the depreciation of the Ghana Cedi has impacted money transfers to Ghana, WorldRemit always tries to offer the closest exchange rates to the market. Compared to other money transfer companies, WorldRemit places itself as the most competitive in terms of exchange rates and Google Exchange Rates. To check real time exchange rates for money transfers with WorldRemit, use our calculator.
With WorldRemit, it is easy to send Cedi to friends and family in Ghana as mobile money, bank transfer, airtime top up, or for cash pickup. Once you're registered with WorldRemit, and we've verified your information, you can send money to family and friends via our website, or on our iOs or Android app. You will pay no fees on your first three transfers with our 3FREE offer, and 90% of money transfers to Ghana are ready within minutes.
Disclaimer: The contents of this blog post does not constitute legal or financial advice and is provided for general information purposes only. If you require specific legal and / or financial advice you should contact a specialist lawyer or financial advisor. Information true at time of publishing.
Distributed by African Media Agency (AMA) on behalf of WorldRemit.
About WorldRemit
We're a leading global payments company and, along with Sendwave, part of Zepz, a group powering two global payments brands.
We disrupted an industry previously dominated by offline legacy players by taking international money transfers online – making them safer, faster and lower-cost. We currently send from 50 countries to recipients in 130 countries, operate in more than 5,000 money transfer corridors worldwide and employ over 1,200 people globally.
On the sending side WorldRemit is 100% digital (cashless), increasing convenience and enhancing security. For those receiving money, the company offers a wide range of options including bank deposit, cash collection, mobile airtime top-up and mobile money.
Backed by Accel, TCV and Leapfrog – WorldRemit's headquarters are in London, United Kingdom with regional offices around the globe.
Media Contact
WorldRemit Press Office
The post Inflation in Ghana and Cedi depreciation: causes and impact on money transfers appeared first on African Media Agency.