Aleph Hospitality To Develop And Operate Fauchon-Branded Hotels In The Middle East And Africa
The Dubai-based independent hotel management company has signed an exclusive agreement with Fauchon Hospitality to grow and operate the legendary brand's luxury hotel portfolio in the Middle East and Africa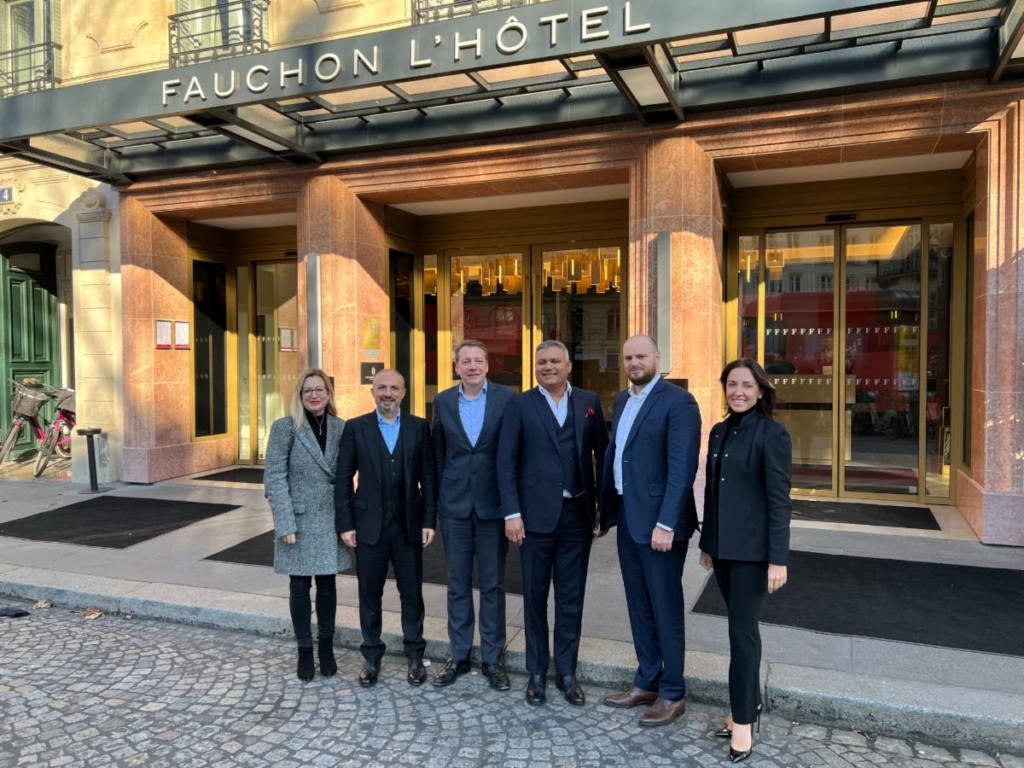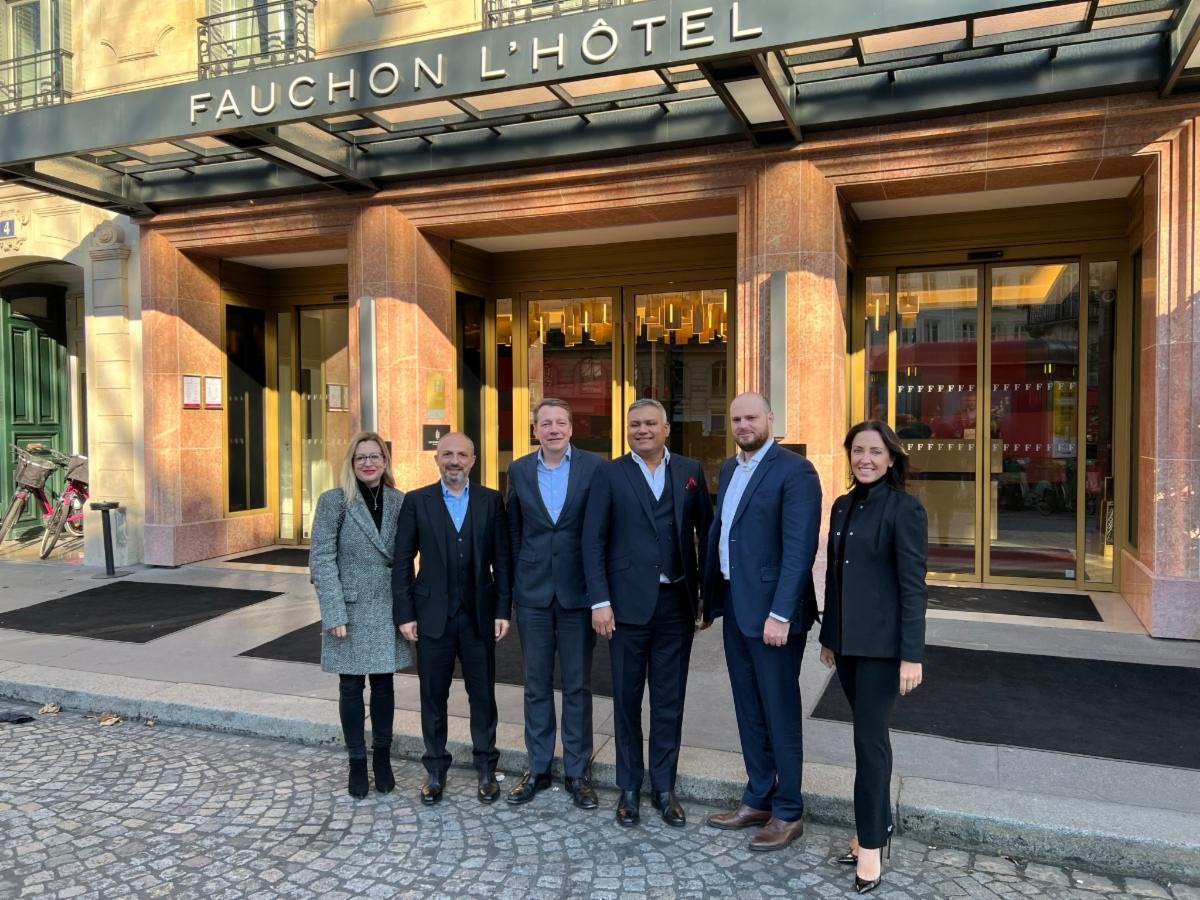 DUBAI, UAE, 27 February 2023 -/African Media Agency(AMA)/- Dubai headquartered Aleph Hospitality has announced its partnership with France based Fauchon Hospitality at a recent signing ceremony in Paris. The agreement names Aleph Hospitality as the exclusive developer and operator of the glamourous Fauchon L'Hôtel portfolio in the Middle East and Africa.
Founded in 1886 by Auguste Fauchon, the world-renowned Fauchon brand is a luxury contemporary gastronomy leader with a unique French DNA, comprising a collection of over 100 retail boutiques, gourmet cafes and restaurants in 50 countries. In 2018, Fauchon opened its first luxury boutique hotel, Fauchon L'Hôtel Paris, followed by Fauchon L'Hôtel Kyoto in 2021 as the Parisian brand's first international hotspot. Today, Fauchon Hospitality has five glamourous boutique hotels in the pipeline with the aim to become a global hospitality company with a luxury collection of 20 hotels by 2030.
Bani Haddad, Founder and Managing Director of Aleph Hospitality, said: "We are well aware that an opportunity of this grandeur doesn't happen very often. We are excited and humbled to be partnering with Fauchon Hospitality. We look forward to delivering the brand's legendary glamorous Parisian 'art the vivre' experience to hotel guests in the Middle East and Africa. We believe the region has tremendous potential for the aspirational and sophisticated brand experience offered by Fauchon L'Hôtel."
With a focus on cosmopolitan cities and luxury leisure destinations, the Fauchon L'Hôtel portfolio will comprise boutique hotels, retreats, beach clubs and residences in exceptional locations with superior culinary concepts and indulgent private services beyond the usual five-star hospitality experience. The unique brand promise and concept is centered around the acronym 'GLAM': Gourmet, featuring Fauchon's bespoke reinvented in-room mini bar, the Gourmet Bar; Location for a lively and luxurious lifestyle; Arty & Artisans for creative hotel services and experiences with a Fauchon touch, and Mesdames, the brand's unique female touch personified by the Fauchon Beauty Spa, French beauty brands as amenities, in-room lighting and vibrant signature walk-in wardrobes. Each hotel or resort will also feature signature Fauchon F&B concepts such as the Grand Café Fauchon and retail.
Jacques-Olivier Chauvin, CEO of Fauchon Hospitality, noted: "We are delighted to have partnered with Aleph for development in the Middle East and Africa, which brings world-class hotel management professionalism and credibility to our owners and investors. This region is important to Fauchon Hospitality because a large part of our customer base is located in this area and familiar with our existing Fauchon retail outlets. With Aleph, we can be confident our signature Fauchon style and service will be flawlessly delivered to customers across the region as we grow our hospitality business. I am excited about the potential of this partnership which unites a powerful, globally recognised brand together with an operating company noted for its excellence and dynamic management style".
Aleph Hospitality, which has targeted 50 hotels in the Middle East and Africa by 2026, manages hotels directly for owners, either with a franchise for branded properties or as a white label operator for independently branded hotels.
Distributed by African Media Agency (AMA) on behalf of Aleph Hospitality
About Aleph Hospitality
Born and based in Dubai, Aleph Hospitality is a dynamic hotel management company, working for owners to maximise the value of their assets in the Middle East and Africa. The regional specialist's customised, results-driven alternative to traditional hotel management models includes third party and white label operations. Aleph Hospitality manages hotels directly for owners and facilitates franchising partnerships with leading global brands. 
With in-depth market knowledge, several decades' experience working with the world's largest hotel
companies, and a company culture based on trust, responsiveness and flexibility, Aleph Hospitality delivers superior results for hotel owners, an exceptional hospitality experience for its guests and a professional environment for its workforce. Aleph has 12 operating hotels in its portfolio and has earmarked a pipeline of 50 hotels in the Middle East and Africa by 2026.
To find out more, visit alephhospitality.com.
CONTACT:
Anne Bleeker
Managing Director
In2 Consulting
anne@in2consulting.com / +971 56 603 0886
About FAUCHON
Founded in 1886 by Auguste Fauchon, the FAUCHON brand has been family-owned since 2006, and is a purveyor of luxury contemporary gastronomy for restaurants, gourmet cafes, retail boutiques, and five-star hotels. FAUCHON also operates a professional culinary training school. The company's signature products include haute patisserie, macarons, chocolate, tea, fine foods, and gourmet gifts via 100 franchise shops and 400 points of sale in over 50 countries including France, United Arab Emirates, Japan, Mexico, Hong Kong, and Qatar. FAUCHON is known for its innovative training of up-and-coming chefs who have gone on to be major names in the patisserie world including Pierre Hermé, Christophe Michalak and Patrick Paillet, the creator of the famous "Bisou-Bisou".
For additional information about FAUCHON, visit https://groupe.fauchon.com/eng/
About FAUCHON Hospitality
FAUCHON Hospitality, founded in 2018, is the hotel division of FAUCHON, created specifically to ensure a full worldwide development of the FAUCHON L'HÔTEL portfolio showcasing the Parisian "art de vivre" experience. FAUCHON Hospitality's brand standards are based upon the "GLAM" concept: GOURMET (the most creative Parisian patisserie adhering to the French culinary tradition); LIVELY LOCATION (at the heart of the urban life of the city); ATTENTIONS (attention and experiences which are bespoke, far beyond the usual exclusive hospitality services; and MESDAMES (a hotel always in tune with women featuring sophisticated lighting, hairdryers, properly sized bathrobes, feminine amenities, and more). FAUCHON Hospitality currently has properties in Paris, France, in Kyoto, Japan, with a third property currently in development in Saudi Arabia.
For additional information about FAUCHON Hospitality, visit https://www.fauchonhospitality.com.
The post Aleph Hospitality To Develop And Operate Fauchon-Branded Hotels In The Middle East And Africa appeared first on African Media Agency.